FISH SPECIES
Tarpon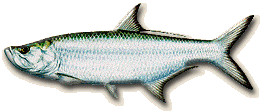 Tarpon - Family Elopidae, TARPONS (Megalops atlanticus)
Description: last ray of dorsal fin extended into long filament; one dorsal fin; back dark blue to green or greenish black, shading into bright silver on the sides; may be brownish gold in estuarien waters; huge scales; mouth large and points upward.
Similar Fish: (as juveniles) ladyfish, Elops saurus.
Where found: primarily INSHORE fish, although adult fish spawn OFFSHORE where the ribbon-like larval stage of the fish can be found.
Size: most angler catchs 40 to 50 pounds.
Florida Record: 243 lbs.
Remarks: slow grower; matures at 7 to 13 years of age; spawning occurs between May and September; female may lay more than 12 million eggs; can tolerate wide range of salinity; juveniles commonly found in fresh water; can breathe air at surface; feeds mainly on fish and large crustaceans.
Speckel Trout

Spotted Seatrout - Family Sciaenidae, DRUMS ( Cynoscion nebulosus .
Description: dark gray or green above, with sky blue tinges shading to silvery and white below; numerous distinct round black spots on back, extending to the dorsal fins and tail; black margin on posterior of tail; no barbels; no scales on the soft dorsal fin; one or two prominent canine teeth usually present at tip of upper jaw.
Similar Fish: other seatrouts.
Where found: INSHORE and/or NEARSHORE over grass, sand and sandy bottoms; move into slow-moving or still, deep waters in cold weather.
Size: common to 4 pounds on west coast, larger on east coast.
*Florida Record: 15 lbs., 6 ozs.
Remarks: matures during first or second year and spawns INSHORE from March through November; often in association with seagrass beds; lives mainly in estuaries and moves only short distances; adults feed mainly on shrimp and small fish; prefers water temperatures between 58 and 81 degrees F and may be killed if trapped in shallow water during cold weather; longevity 8 to 10 years.
Flounder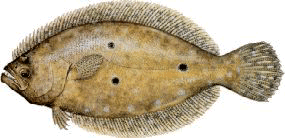 Gulf Flounder - Family Bothidae, LEFTEYE FLOUNDERS ( Paralichthys albigutta )
Description: body color brown, its shade depending on color of bottom, with numerous spots and blotches; 3 prominent eye-like spots forming a triangle; one spot on lateral line, one above, one below; numerous white spots scattered over body and fins (albigutta, white-spotted); strong canine-like teeth; caudal fin in shape of wedge, its tip in the middle.
Similar Fish: southern flounder, P. lethostigma (no eye-like spots; color pattern is key to distinguishing the two species).
Where found: INSHORE on sandy or mud bottoms, often ranging into tidal creeks; occasionally caught on NEARSHORE rocky reefs.
Size: common to 2 pounds, generally smaller than southern flounder.
*Florida Record: n/a
Remarks: hatches into usual fish form, but right eye migrates over to left side early in life; a bottom dweller; thought to spawn OFFSHORE; feeds on crustaceans and small fishes.
Red Snapper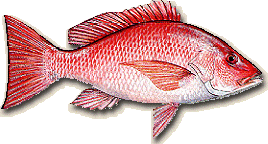 Red Snapper - Family Lutjanidae, SNAPPERS ( Lutjanus campechanus )
Description: color pinkish red over entire body, whitish below; long triangular snout; anal fin sharply pointed; no dark lateral spot.
Similar Fish: vermilion snapper, R. aurorubens.
Where found: OFFSHORE on the continental shelf, more plentiful off the panhandle than in south or middle Florida.
Size: to 20 pounds.
*Florida Record: 46 lbs., 8 ozs.
Remarks: juveniles occur over sandy or mud bottoms and are often taken in shrimp trawls; adults may live more than 20 years, and attain 35 pounds or more; sexual maturity attained at age 2; spawns June to October; feeds on crustaceans and fish.
Kingfish
King Mackerel - Family Scombridae, MACKERELS and TUNAS ( Scomberomorous cavalla )
Description: color of back iridescent bluish green; sides silvery, streamlined body with tapered head; no black pigment on front of dorsal fin; lateral line starts high and drops sharply below the second dorsal fin; young fish often have yellow spots like those of the Spanish mackerel.
Similar Fish: cero, S. regalis; Spanish mackerel, S. maculatus.
Where found: NEARSHORE and OFFSHORE, occasionally taken from piers running into deep water.
Size: common to 20 pounds.
*Florida Record: 90 lbs.
Remarks: schooling fish that migrates fom south Florida waters in winter to more northerly waters in spring; Gulf population thought to be separate from Atlantic population, with considerable mixing in winter from Cape Canaveral past Key West; spawns in midsummer OFFSHORE; feeds on small fish and squid.
Redfish

Red Drum - Family Sciaenidae, DRUMS ( Sciaenops ocellatus )
Description: chin without barbels; copper bronze body, lighter shade in clear waters; one to many spots at base of tail (rarely no spots); mouth horizontal and openng downward; scales large.
Similar Fish: black drum, Pogonias cromis.
Where found: juveniles are an INSHORE fish, migrating out of the estuaries at about 30 inches (4 years) and joining the spawning population OFFSHORE.
Size: one of 27 inches weighs about 8 pounds.
*Florida Record: 51 lbs., 8 ozs.
Remarks: red drum are an INSHORE species until they attain roughly 30 inches (4 years), then they migrate to join the NEARSHORE population; spawning occurs from August to November in NEARSHORE waters; sudden cold snaps may kill red drum in shallow, INSHORE waters; feeds on crustaceans, fish and mollusks; longevity to 20 years or more.
Blacktip Shark

(Carcharhinus Limbatus )
Fish with the Best or Fish with the REST!
Trophy Trout, Redfish & World Class Tarpon